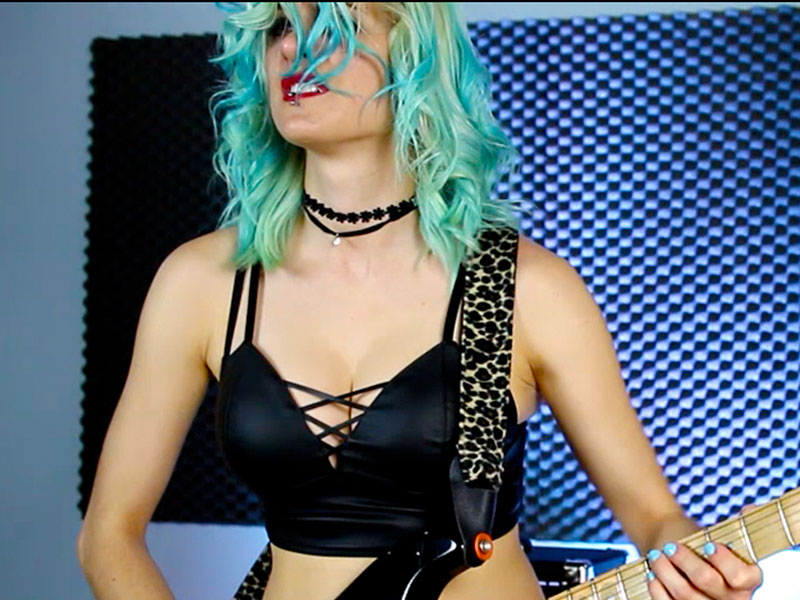 Irma Mirtilla
nome
Irma Mirtilla
home page:
https://www.facebook.com/irmaofficial
contatto e-mail
irma.mirtilla@gmail.com
foto

strumento/i
Fender Stratocaster Roadworn '60
Fender Sratocaster Roadworn '50
Ibanez RG 750
Yamaha APX 6
IQS Strings
amplificazione:
Masotti X100M customized
Mezzabarba Skill 30W
Dragoon 2×12 cab w/ Greenback speakers
Marshall 4×12 cab w/ V30 speakers
Pedals:
Masotti OD BOX
Dolphin's Sound Inferno Distortion
Dolphin's Sound Purgatorio Overdrive
Dolphin's Sound Perseo Boost
Dolphin's Sound Leonardo Compressor
Strymon Timeline
Strymon Mobius
Boss RC300 Loop Station
genere/i
Rock
Funk
Pop
gruppo/i
Black Mamba http://www.blackmambaofficial.com/
Irma Unplugged
and other side projects
descrivi te e la tua musica
Irma musical journey began in her hometown, a little far away Rome. It was there that her brother taught her how to play the rhythm guitar when she was just 11-years-old, growing up in a household filled with music and creativity.
Though she began her musical journey only playing the guitar, she started also to sing for kicks in the high school period when she was called to be part of a local pop band.
In 2011 their first homonymous album was released.
Although she deepened the study of singing she has always considered herself more of a guitarist than a singer.
In the same year she definitely chose music as her career path and moved to Rome to attend the prestigious "Saint Louis Music College".
Her training was mostly rock, although she studied the many other fields surrounding music too, with great results.
Three great guitarists followed her education: Giacomo Anselmi, William Stravato and Antonio Affrunti.
Since 2013 she has moved to Florence where she cooperates with Giacomo Castellano guitarist/composer/producer (Piero pelù, Gianna Nannini, Thomas Lang, Elisa ecc..) on various live and recordings projects.
Her main project is "Black Mamba", a rock band soon out with their first album; side projects are playing acoustic guitar & sing for the "Irma Unplugged", a different kind of acoustic show based on the
use of a Loop Station, co-produced with Giacomo Castellano.
Irma is proudly endorsed by MEZZABARBA CUSTOM AMPLIFICATION, DOLPHIN' SOUND Pedals, IQS Strings and ESSETI Picks.
Irma uses also FENDER STRATOCASTER Guitars, DRAGOON Cabs, ZEAD Pickups, STEFYLINE Bags and STRYMON Pedals.
Subscribe on Youtube:
https://www.youtube.com/user/irmamirtilla
Follow her on Twitter:
Tweets by IrmaMirtilla
Follow on Instagram:
https://www.instagram.com/irma_mirtilla
_______________________________________________________________________________
INFO/CONTACT/BOOKING:
irma.mirtilla@gmail.com
or text me Privately on Facebook.
note:
OFFICIAL FACEBOOK:
https://www.facebook.com/irmaofficial/
TWITTER:
Tweets by IrmaMirtilla
INSTAGRAM:
https://www.instagram.com/irma_mirtilla/
YOUTUBE:
https://www.youtube.com/user/irmamirtilla