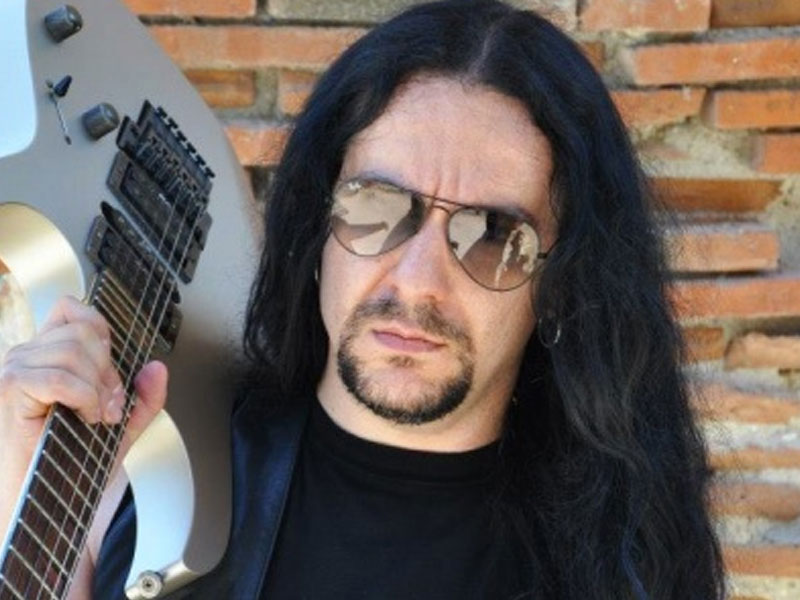 Marco Ruggiero
nome
Marco Ruggiero
home page:
http://www.marcoruggiero.com
contatto e-mail
info@marcoruggiero.com
età
38
strumento/i
chitarra, basso
amplificazione:
JMP 1 PREAMP MARSHALL
INTELLIFEX LTD SERIES ROCKTRON
BRUNETTI SILVER BULLET
BEHRINGER PROXL 4600
MIDI MATE ROCKTRON
genere/i
HEAVY METAL
gruppo/i
SAVIOR FROM ANGER
descrivi te e la tua musica
My name's Marco Ruggiero guitarist from Naples (Italy). I'm SAVIOR
FROM ANGER leader.
When I was 13 years old, I bought my first guitar and I took the first lessons. Listening to the music of Iron Maiden, Judas Priest, Black Sabbath, Metallica, Megadeth, Metal Church, Vicious Rumors, Riot, Helloween, Annihilator, Queensryche and all the metal bands of the Eighties I discovered Heavy Metal.
My professional career started with Progressive Power metal band LANDGUARD; with this band I recorded the album "EDEN OF A PARALLEL  DIMENSION", released thanks to the italian label "UNDERGROUND SYMPHONY"on 2000.0p
In 2000 I left the band and I founded NAMELESS CRIME.
Nameless Crime's style is classic Heavy Metal, with Thrash Metal influences. With Nameless Crime I recorded two albums, "NAMELESS CRIME" published in 2003 thanks to the italian label NOCTURNAL MUSIC, "LAW AND PERSECUTION", published in 2006 thanks to METAL FACTORY division of POWER ZONE RECORDS and the EP " BACKDRAFT" published in 2004 thanks to HOT ROCKIN PROMOTION.
The band's live activity was very hard, and during these years we played with many international metal artists such as Paul Di' Anno, Blaze Bailey, Marduk, Ancient, Helstar, Iron Savior, Doro, Atrocity, Dark Moor, Lanfear, Leaves Eyes, Axxis, Morgana Lefay and more…
In 2007 I formed a new band called SAVIOR FROM ANGER; the band's style is Speed metal Power. On 2006 we recorded the EP" NO WAY OUT" released thanks to MRM PRODUCTION.
During 2007 and 2008 we played with many italian and international metal artists such as Dark Tranquillity, Dismember, Anathema, Destruction, Blaze Bayley, Vader, Vision Divine, Death SS, Domine, Metal Gang, Eldritch, Fabio Lione and Rhapsody on Fire, Pino Scotto & Firetrails, DGM, Infernal Poetry, Novembre and many more…On later 2008 the band signed for label ROCK IT UP RECORDS from Germany.
The date of release of the new album " LOST IN THE DARKNESS" is by the beginning of 2009.
On Novembre of 2009 SAVIOR FROM ANGER were in tour with VICIOUS RUMORS, SACRED STEEL and SKYCLAD in Germany.
I play also like session guitarist with Power Doom metal band IN AEVUM AGERE of Bruno Masulli ( Power Beyond, Annihilation Mancer, Loadstar, ex Marshall singer). I followed the band for several gigs on January 2009 in Germany at Hammer of Doom / Keep It True fest).
On 2012 I recorded with the band the EP " MMXI " and the Debut album " THE SHADOW TOWER" with IN AEVUM AGERE released thanks to german label PURE STEEL RECORDS.
On Sectember 2012 SAVIOR FROM ANGER signed a new deal for italian label MY GRAVEYARD PRODUCTIONS ( Skanners, Vanexa, Dark Quarterer, Sabotage, Crying Steel, Manilla Road and more…)
The date of release of the new album " AGE OF DECADENCE" is 31th January of 2013.