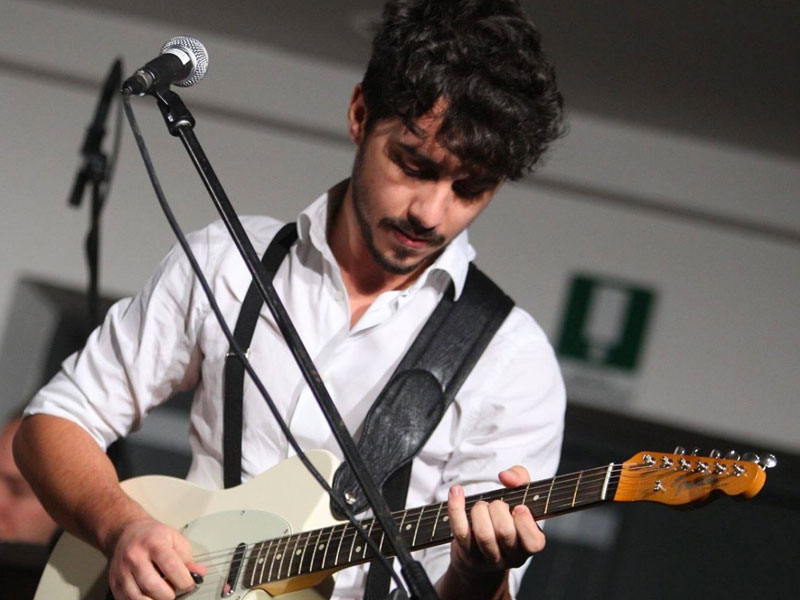 Federico Quartana
nome
Federico Quartana
home page:
https://www.facebook.com/Federico-Quartana-332824770092889/?fref=ts
contatto e-mail
federicoquartana@gmail.com
foto

età
24
strumento/i
Fender Stratocaster Deluxe '98 modded
Fender Telecaster Classic '60
Gibson Es335 flamed Custom Shop
Schecter C1 fr blackjack Limited Edition
Martin Dcre Premium Custom Shop
Essetipicks Ziriyab
Essetipicks Speedy Coconut
amplificazione:
Koch Twintone II
Vox Ac30 head + V212H cabinet (50th anniversary)
DV Mark Little Jazz
Pedalboard:
Dunlop Wha Jimi Hendrix, Boss Tu3, Boss Cs3 Modded, Fulltone Fulldrive
II, Xotic Sl Drive, Suhr Riot, CAE Boost, Boss Oc3, Mxr Chorus, Zoom
Bt100-Ms, Strymon Timeline, Strymon Big Sky
genere/i
blues, rock, jazz, funky
gruppo/i
The Gruvers
Sensazione Sonora
descrivi te e la tua musica
Chitarrista, compositore, produttore, arrangiatore, insegnante
Insegnante abilitato per i corsi professionali di Chitarra Moderna in
diverse sedi dell'Accademia Musica Moderna (AMM National School) in
Sicilia.
Diploma in chitarra moderna presso l'Accademia Musica Moderna con il
massimo dei voti e la lode, Laurea Triennale in Chitarra Jazz presso
il Conservatorio "V. Bellini" di Palermo con la votazione di 110/110 e
Lode e presentazione di una tesi sperimentale dal titolo "Back to
the Riff".
Diploma in Sound Design come Tecnico del Suono presso Roxy Studio,
Operatore certificato AVID per il percorso Pro Tools 101, Master in
"Arrangiamento e Composizione in studio di Registrazione"
dell'UMM (Università Multimediale della Musica).
Diverse produzioni all'attivo con le band The Gruvers e Sensazione
Sonora che hanno ottenuto un ottimo riscontro in termini di
visualizzazioni Youtube (più di 100.000 in totale), recensioni
(Repubblica, Giornale di Sicilia, Studenti.it) e programmazioni radio
(Radio 24, Fm Italia).
Finalista ad Area Sanremo 2015 con la band The Gruvers con un brano di
cui è co-autore e produttore artistico.
Ha suonato con:
Matteo Amantia (Sugarfree), Luciano Galloni (batterista di Nek),
Angelo Spataro (batterista dei Tinturia), Ernesto Marciante (vincitore
Premio Lunezia 2011), Pierluca Tevere (The Voice of Italy), Daniele
Guastella, Filippo Rizzo, The Gruvers, Sensazione Sonora e molti
altri.